Looks like British Tgirl Melissa Mendez had found some sun somewhere in England before this shoot for Shemale Club! Just take a look at those tan lines… strangely though, she has no tan lines around her boobs which leads me to believe she's suntanning sans top… Now I just need to find out where that beach is!
I think Melissa remains one of the sexiest British Tgirls out there today and its sets like this Shemale Club that show off her true beauty. You've just got to love that beautiful face of hers… those piercing blue-green eyes and perfect lips… Man is she beautiful! They may not have a whole bunch of British Tgirls, but when Shemale Club does feature then, the results are usually pretty fantastic!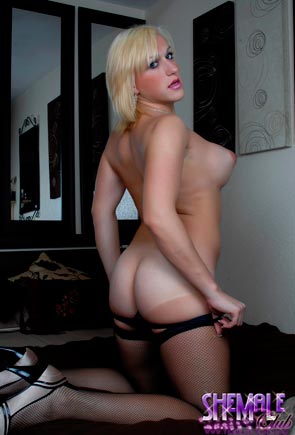 COME CHECK OUT MORE BRITISH TGIRL MELISSA MENDEZ ON SHEMALE CLUB!