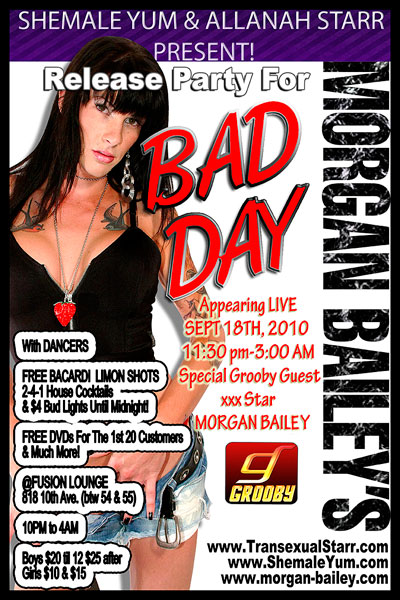 Today is the release date of the new DVD release from Third World Media and Grooby Productions, Morgan Bailey's Bad Day, which means today is your chance to get your hot little hands on this sizzling DVD if you weren't able to pre-order one last week. Also, we'd like to invite you to a very special release party for Morgan Bailey's Bad Day at Fusion Lounge in NYC on September 18, 2010 and presented by Allanah Starr and Shemale Yum!
Everyone is invited to come see Morgan Bailey live and in person, and who knows, you may just walk away with your very own free copy of Morgan Bailey's Bad Day or other cool swag! Contrary to her new DVD's title, this is sure to be an awesome ending to a fabulous day so make sure to mark your calendars today and come join Morgan and all kinds of other East Coast Transsexual Performers and Fusion Lounge!
COME WATCH THE TRAILER FOR MORGAN BAILEY'S BAD DAY… AVAILABLE NOW!