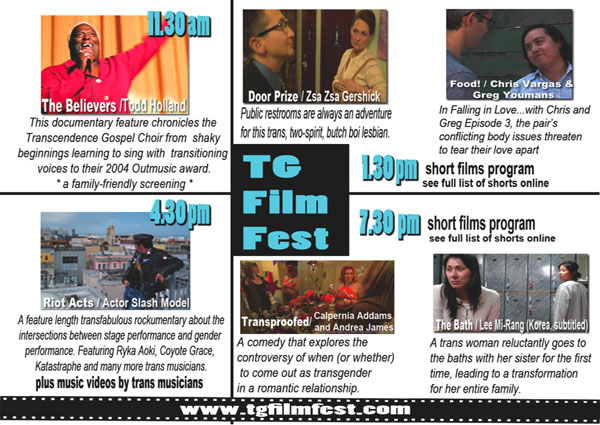 Just one more non-British Tgirls post and then back to all our lovely British Babes, I promise! Today I'd like to take a little timeout for a PSA and invite ALL of you to come attend the Trans/Giving Annual TG Film Festival on August 28, 2010 at The Renberg Theatre. This year's annual event features films that showcase Transgendered individuals and the struggles they undergo. The lineup includes both the humorous and human elements of being Transgendered in today's world and should be an informative and fun filled afternoon.
If you would like to know more about Trans/Giving please visit their Official Website at: www.transgiving.com and do some reading up on the artists, Transgendered news, and the Trans/Giving organizers, Amy (as in Amy Daly), Kalil, Ofelia, Kale, and Frankie. I think it's awesome that these five individuals have gotten together to help organize and showcase the variety of artistic talents the Transgendered community has to offer. I really like this line on their website stating:
Trans/Giving believes that the strongest statement we can make as artists is simply through our art.
A simple statement to be sure but loaded with truths. Please help support this growing annual event and even if you can't make it, please be sure to bookmark and keep up with what's happening with the Trans/Giving folks at their website. Thanks for reading this post and I hope to see you all there!
Annual TG Film Festival
Presented By: Trans/Giving
August 28, 2010, 11:30am – 9:00pm
The Renberg Theatre
1125 N. McCadden Place
Los Angeles, CA 90038