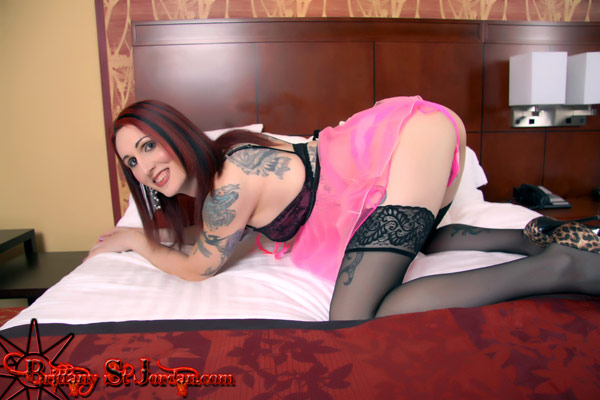 In just a few short hours, the brand spanking new site of Shemale Pornstar Brittany St. Jordan will launch, and if I were you, I would head on over and check it out! I can't remember when I first laid eyes on TS Brittany St. Jordan, but I most certainly will never forget seeing her in person for the first time at the 2010 Tranny Awards. Brittany was a long, lean drink of water in a sea of other girls (who all looked lovely too) that night, and I'm sure she was a feast for the eyes for a lot of people besides me!
Actually, Brittany St. Jordan's career really took off after her appearance at the Tranny Awards, having appeared in numerous DVD's and websites since. I am so glad that she has decided to launch her very own Official Site, and you can bet that I'll be one of the very first people there checking it out! There is a special introductory rate for Membership to Brittany St. Jordan's site to help her celebrate the launch so now is a great time to get in! Congratulations to Brittany St. Jordan on her success in the industry and on the launch of the new site… It should be a pretty wild ride so fasten your seat belts and swing on by!
COME CHECK OUT THE BRAND NEW SITE OF BRITTANY ST. JORDAN HERE!