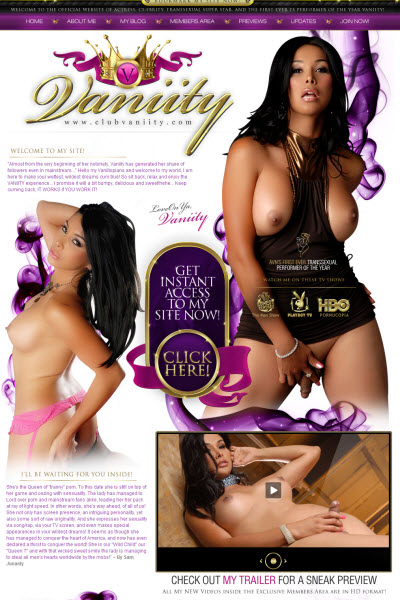 Well here's an awesome surprise for all you guys and girls to enjoy after a long Labor Day weekend! Shemale Pornstar and Icon Vaniity has launched her very own Official Site on the SMC Network! Not that TS Vaniity has gone anywhere and not to imply that she needs one, but for lack of a better word, this could be the 'comeback' of the year in the world of Shemale porn. Now I know why I haven't seen too much from this glamorous Shemale in the past few months… she's been preparing for the launch of Club Vaniity!
You'd be hard-pressed to find another Shemale Pornstar who has had as much impact on the industry and enjoyed the cross-over appeal that TS Vaniity has had during her career. With appearances on mainstream networks like Comedy Central, Playboy TV, and HBO, Vaniity has left and indelible stamp on the world of Shemale porn, and the world of adult entertainment in general. Now all you TS Vaniity Fans (Vaniitopians) can come check out all new, exclusive content on her new Official Site! We'll bring you some pictures from the site as soon as we've had a chance to give it a look over, but if you want to beat us to the punch, just visit The Official Site of TS Vaniity today and become one of the first Vaniitopians to get a look!
COME CHECK OUT THE BRAND NEW OFFICIAL SITE OF TS VANIITY HERE!