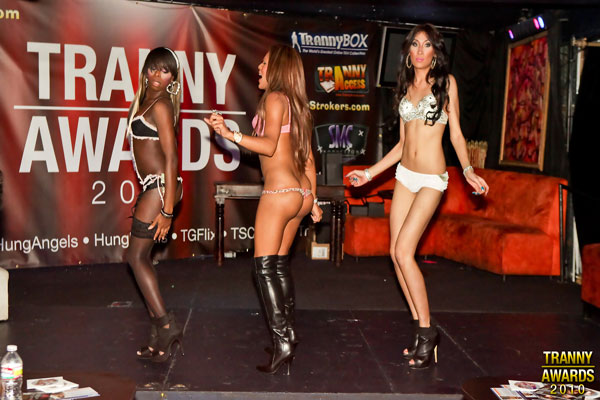 Thanks to everyone involved in a stellar event on Sat night at Blue Moon Nights. Despite a few teething problems due to the club owners not being the most organized, the awards got underway pretty much on "Tranny Time" by midnight.
However before that we had the red carpet event in which Danielle Foxx among others, interviewed the hottest and some of the most famous Transsexual models ever. Danni Daniels and Morgan Bailey expected to be a foot above the rest but it was a surprise appearance by Victoria Porshe to show that they aren't the tallest T-girls. It's just as well there wasn't a prize for the Best Dressed Model as it would have been too difficult to choose but apart from the aforementioned Danielle; Yasmin Lee, TS Foxxy, TS Jesse, Sheeba Starr, and Vaniity were particularly memorable. Ben in LA easily won the Best Dressed Man.
There were plenty of press in attendance from Bizarre Magazine, AVN, XBiz and Robert Rhiney from "Girls and Corpses" as well as a few undercover writers. Producers were of course there in full: Joey Silvera, Sam Mancini, Tony Vee, Jon Sable, Ed Hunter, Tomcat (Kink), Frank, Buddy Wood, Bob and more to meet the models.
This event could not have happened without the sponsors, whose money went straight into the winners' prizes. Grooby Productions covered the costs of the awards, advertising and all costs for the evening.
The award show kicked off with a number by MC for the evening, and model, Michelle Austin. These are the winners and some notes. Here are some brief rundowns of the 2010 Tranny Award Winners.
BEST FREE WEBSITE: Delia from "DeliaTS" presented the award sponsored by Krissy4u – Naughty Asian Tgirl.
WINNER: HungAngels.com
Closely followed by Caramel's Tgirls.
BEST INDEPENDENT SITE: Krissy from "Krissy4u – Naughty Asian Tgirl" presented the award sponsored by Tranny News Daily.
WINNER: DeliaTS
There was nobody even close to Delia's site. Delia has won this category two times running.
BEST NON-TS PERFORMER: Jesse Flores from 'TS Jesse" presented the award.
WINNER: Angelina Valentine
Close runner up was Hollie Stevens in a very tightly contested category.
BEST TRANSSEXUAL DVD: Hazel Tucker from "Hazel Tucker: All-American Shemale Next Door" presented the award.
WINNER: Morgan Bailey's Bad Day
Completely wiped the boards with every judge rating it high. Morgan accepted on stage with Buddy Wood as this was a joined effort (and co-stars Amy Daly and Olivia Love also joined the fun)
LIFETIME ACHIEVEMENT AWARDS: Grooby Productions Owner, Steven Grooby presented two awards.
JOANNA JET:
Joanna started in the industry as basically a fan of Shemale Yum in its earliest day and self-submitted some photos of herself as well as winning a banner competition. Soon after she made the transition and went into modeling with vigor.
She has starred in and produced some of the best TS porn around and worked with every major producer as well as running her own successful company. She's tenacious, determined, has a great business head, produces content second to none and really enjoys what she does.
Joanna was instrumental in encouraging AVN to do a Best TS Performer Award. If it wasn't for models like Joanna, then today's newer models would find it a lot harder.
She's a lovely person and a friend of mine. She came back as a model in 2010 on Shemale Pornstar and is going to continue to model as well as co-produce material in Europe for Grooby.
Here's the acceptance video she Joanna Jet sent in for you all: See Joanna Jet Acceptance Speech
TONY VEE:
The second Lifetime Achievement Award went to Tony Vee who was shocked at being called up – and as he's on the shy side, said only a few words. Tony started working for Grooby in 1997/98 and has shot over 800 models for them in that time, many with mutliple sets. He was the first photographer to work with people like Ashley George, Allanah Starr, Chrissy Snow, Danni Daniels, Carmen Cruz, Amber Vaughn, etc. Literally 100's of models got their first shoots through Tony, who in the pre-internet days used to scour newspapers and the streets to find new models.
He's still producing and looking like there will be no end to the amount of models he finds (having shot a model only hours before the shoot – and a new one the following morning). He's an awesome friend, Joey Silvera thinks his work is among the best ever seen and he's a legend. Tony Vee.
The ever lovely and graceful Yasmin Lee performed.
SHEMALE STROKERS MODEL OF THE YEAR: Domino Presley presented the award.
WINNER: Britney Markham
Britney had brought her Mom, who was in attendance. This award was voted by members of Shemale Strokers. Britney (doing a Jenna Jameson) announced her retirement from porn, after doing some great scenes in a short but well-enjoyed career.
BEST DVD DIRECTOR: The ever graceful Mia Isabella presented the award.
WINNER: Buddy Wood
Unsurprisingly and very deservedly went to…Buddy Wood which was an almost unanimous judges' decision.
BEST MODEL SHEMALE YUM: Morgan Bailey presented the award.
WINNER: Domino Presley
Domino Presley was the winner by a mile. Other high contenders here included Bailey Jay, Alice Amuze and Danni Daniels. This category was voted on by Members of Shemale Yum.
BEST MODEL BLACK TGIRLS: Natalia Coxxx presented the award.
WINNER: Sheeba Starr
After making a comeback in 2010 to Black Tgirls, after a 6 yr absence from the industry, it has been great to see Sheeba Starr back in action!
BEST SOLO TS WEBSITE: Taylor McGhee presented the award.
WINNER: Mandy Mitchell
Mandy Mitchell's Official Site, with it's stunning photography and pushing of the boundaries of TS porn with often non-typical models, has created a brand and a look that she owns. She looked simply fantastic tonight and it was good to see her win. Close runners-up were TS Jesse and Mia Isabella.
BEST TRANSSEXUAL DVD PERFORMER: TS Foxxy presented the award sponsored by the Tgirl Network of SMC.
WINNER: Jessica Foxx
A surprise winner but her look and scenes are consistently excellent.
BEST WEBSITE MODEL – SOLO: Superstar Vaniity presented the award sponsored by Tranny Box.
WINNER: Not a big surprise that Bailey Jay won…this seems to be her year. Her closest runner up was Sarina Valentina and Domino Presley. Bailey had said she's be at the awards but didn't make it. This email came later and she will be accepting it this week:
"I just heard the awesome news!! I'm so happy I won!! I'm sorry I couldn't attend last minute. I really am honored for the win! Thanks for giving me my start in this crazy industry, Bailey"
BEST WEBSITE MODEL – HARDCORE: Danielle Foxxx presented the award sponsored by Tranny Access.
WINNER: Celeste
Fantastic to see a model who doesn't always get as much press (due to the fact she doesn't court it) getting recognition. Celeste was unavailable to collect but her friend Renae did on her behalf.
BEST UP & CUMMER: Amy Daly presented the award sponsored by Grooby Productions.
WINNER: Domino Presley
This final award, is often the most important and shows who MAY be the next big star. Runners up included Danni Daniels, Brittany St. Jordan, Alice Amuze and Yazlene Reyes but Domino won clearly.
THE PARTY CONTINUED!!!
Congratulations to all winners AND nominees. Thank you to all for being so gracious and lovely and for being part of this industry. I hope sponsors and guests enjoyed the show and will give us feedback for improvements for next year. Overall the show ran very smoothly considering.
Thanks to Michelle Austin for being a fantastic MC and low-drama. Sparky for being brilliant all the way out and Buddy Wood for keeping it glued together. Thanks to our lighting guy and to Frank for doing photography as well as Danielle and her crew for the red carpet. Also, thanks too other photographers.
The companies involved in this: Shemale Club (SMC), TrannyBox (Gamma), Shemale Strokers, Tranny Access (Shemale Profit), Grooby.com (Shemale Yum, Black Tgirls, TGFlix), and Krissy4u – Naughty Asian Tgirl ARE the companies that want to work well in this industry. We want to provide you the models and the fans with good working environments and good product at good prices, so please take a look at our websites and companies.
Many thanks again for a great night.
VISIT TGIRLS.COM BLOG TO SEE MORE PICTURES FROM THE 2010 TRANNY AWARDS!