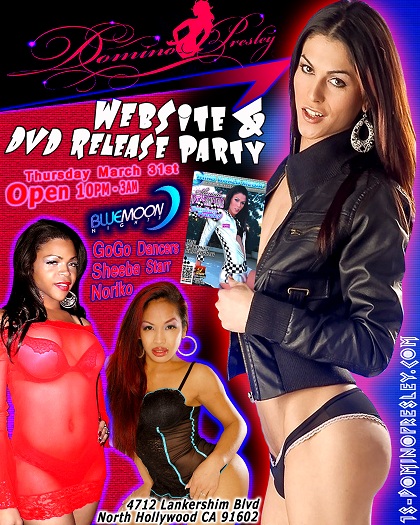 If you haven't heard yet, TS Domino Presley has launched her new Official Site on the Web, and you're invited to be one of the very first people to check it out! I've already had a look at you will be simply amazed at the awesome galleries and videos that are waiting for you there!
To help celebrate her Official Launch, Domino will be mingling with the crowds at Blue Moon Nights this Thursday evening for Buddy Wood's T-Party! Come be a part of the fun and you may walk away with a free copy of Domino Presley's new Third World Media DVD, Shemale Pornstar: Domino Presley as a door prize… as if meeting this lovely Shemale Pornstar in person wouldn't be enough to get you there!
VISIT THE BRAND SPANKING NEW SITE OF TS DOMINO PRESLEY HERE!